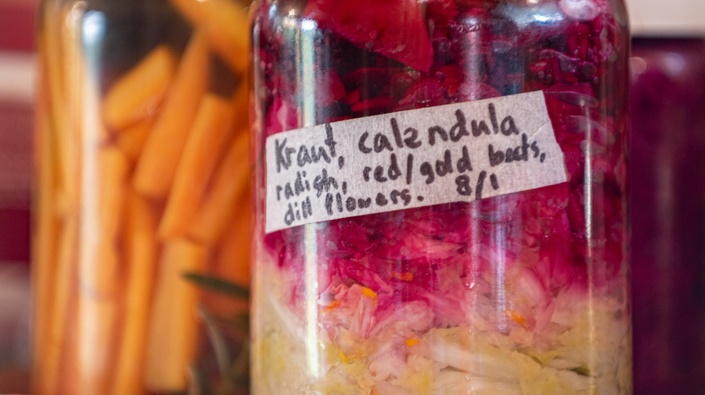 Pākaraka Permaculture Ferment & Pickle Online Course
Learn how to make delicious lacto-ferments and pickles at home with Niva and Yotam Kay
Enroll in Course
Join our upcoming Ferment & Pickle Online Course!


Starting on Tuesday the 16th of January 2024.


In this masterclass, Niva & Yotam will personally support you on your fermenting and pickling journey.
During the course, we cover what are lacto-fermentation and pickling, the necessary equipment, health and safety considerations and demonstrations of easy-to-follow step-by-step recipes for delicious ferments, providing you with the confidence to ferment at home. This course is a companion to The Abundant Kitchen book with additional video content and live sessions with Niva & Yotam.
Course Highlights
3 live online meetings with Niva and/or Yotam and peer students.
1.5 + hours of in-depth videos to walk you through each topic.
Join a community of like-minded learners
Share pictures of your ferments to get personalised feedback from Niva and Yotam.
Get all your related fermentation questions answered
1-year access to the course material, including the opportunity to keep asking questions on the course platform and get support from Niva, Yotam and the Pākaraka Team
In this online course, we will follow the first chapters and content of our book, The Abundant Kitchen. You can purchase a copy of the book with the course by choosing this option below (free shipping).
Who is this course for?
This course is suitable for those taking their first steps in fermenting and pickling and those who have been doing so for years and want to improve their skills, fill in gaps in their knowledge and gain more confidence in making various recipes.
This course covers everything you need to know to get the best results from your lacto-fermentation and pickles. Whether you have an abundant vegetable garden or shop your veggies, we will show you how to transform them into delicious ferments and pickles. We advocate for simple equipment you will likely already have at home. We will also share the suppliers and products we prefer using.
Our techniques are simple yet reliable. We will demonstrate using a wide range of foods and how to make them in small and large quantities. Learn the right strategies and techniques for your lifestyle to enjoy ferments and pickles of the highest nutritional value and quality throughout the year.
Course Dates

The Fermentation & Pickling Online Course starts on Tuesday the 16th of January 2024
Weekly Live Sessions with Niva and Yotam Kay will be held on Zoom (we will send you the meeting link).
Dates:

Tuesday the 16th of January 2024, at 6 pm New Zealand Time (4 pm Australia Melbourne/Sydney)
Tuesday the 30th of January 2024, at 6 pm New Zealand Time (4 pm Australia Melbourne/Sydney).
Tuesday the 13th of February 2023, at 6 pm New Zealand Time (4 pm Australia Melbourne/Sydney.

The live sessions are recorded and available on the course platform to view again or in case you can't make it. You can submit questions for Niva & Yotam before the session for them to address.
Your Instructors

Niva and Yotam established Pākaraka Permaculture - Market Garden and Educational Centre for Regenerative Living in Thames, Aotearoa New Zealand, in 2014.

Niva and Yotam, are the authors of the #1 Bestseller book The Abundant Garden (2021) and The Abundant Kitchen (2023). They were awarded the peer-reviewed 'Farmer of the Year' at the 2021 Organic NZ Awards, and the Transforming Food - Judges commendation in 2017 by Sustainable Business Network.
Since 2006 they have been gardening, fermenting, pickling and preserving together, experimenting with a wide variety of techniques and teaching others to do the same.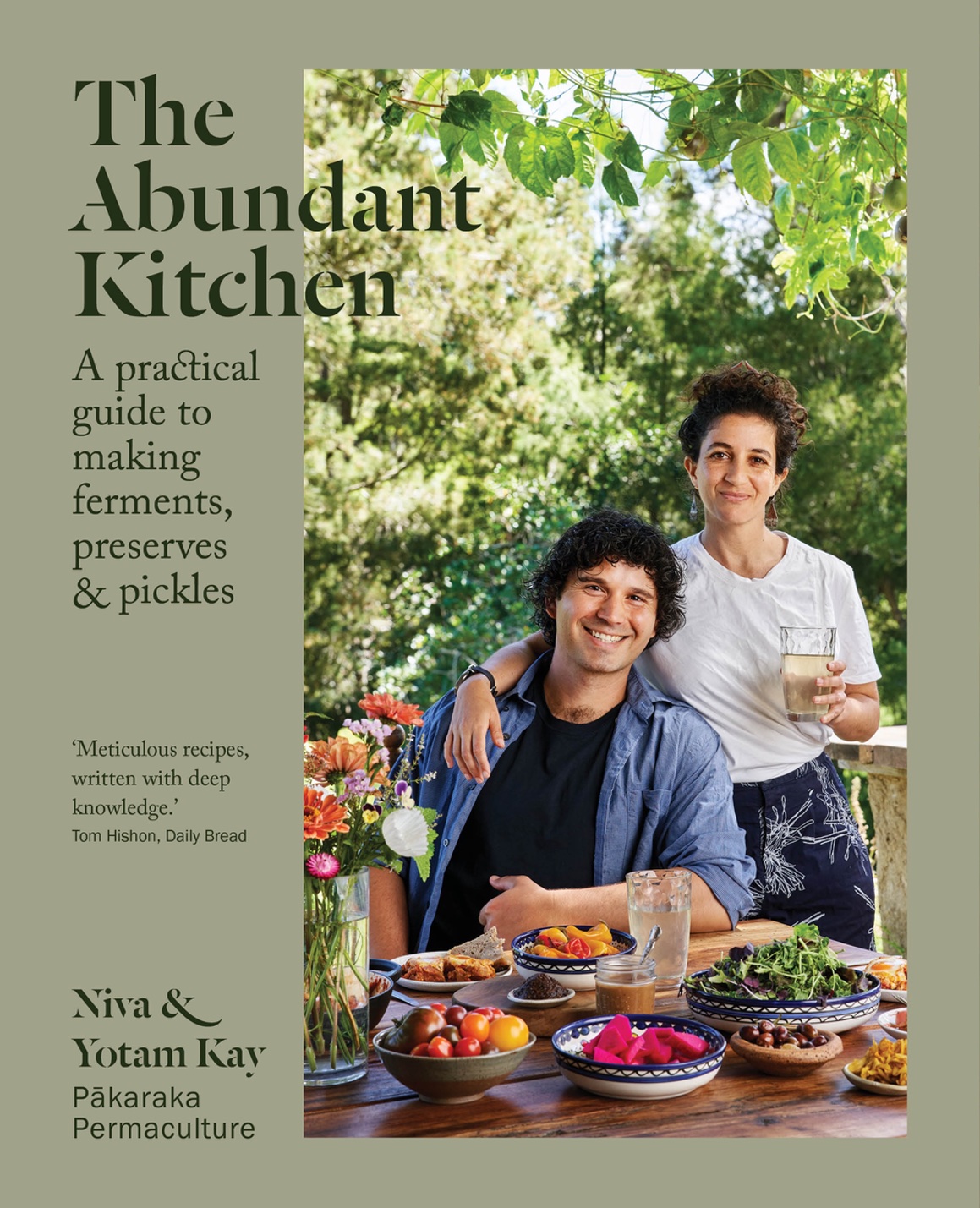 Course Curriculum
Introduction to the Course
Available in days
days after you enroll
Introduction to Lacto-Fermentation
Available in days
days after you enroll
Vegetables in Brine
Available in days
days after you enroll
Frequently Asked Questions
When does the course start and finish?
The course starts on Tuesday, the 16th of January 2024, and you will have full access to the course, including support for one year from that date.
Who is this course for?
This online course is suitable for beginner and experienced fermenters alike. The course will help you build solid foundations and fill gaps in your knowledge.
Do I have to join the live weekly sessions?
Although we recommend you do, you don't have to join them. You can view the recording at any time that is convenient for you. You can submit any questions prior to the live session, and we will answer them in the relevant session.
How much time should I expect this course to take?
While it highly depends on your level of engagement with the material, we recommend dedicating 2 to 3 weekly hours over the first month (during the timeframe of the live sessions) to get the most out of the course. This time includes the live session, reading the material in The Abundant Kitchen, watching course videos, participating with the learning community and experimenting in your kitchen. If you are short of time during the course, you can complete reviewing the material at a later date.
How can I ask questions that I have?
You can ask questions and receive answers in several ways. The best way is to come to the live sessions. Alternatively, you can submit your question before the class, and Niva and Yotam will answer it. You can also submit your question in writing on the learning platform in the relevant lesson, and we will answer your question there. You have one year access to the course and this support. You can also ask questions in the groups' private Discord group and receive answers from fellow and past students.
Is this course suitable if I am not in NZ?
Yes. The content in this course is suitable for keen fermenters from both hemispheres, not just New Zealand and Australia, as the art of fermenting and pickling is universal.
Can I enrol and take the course with a friend or family member?
The course enrolment is for one person to join the program. You are welcome to invite your partner or/and child (or someone living with you) to join the online live sessions with you on the same device. If a friend wants to join the course they will need to enrol separately.
What is your refund policy?
If you are unsatisfied with your investment, contact us in the first 7 days, and we will give you a full refund.
I have a question, how do I contact you?