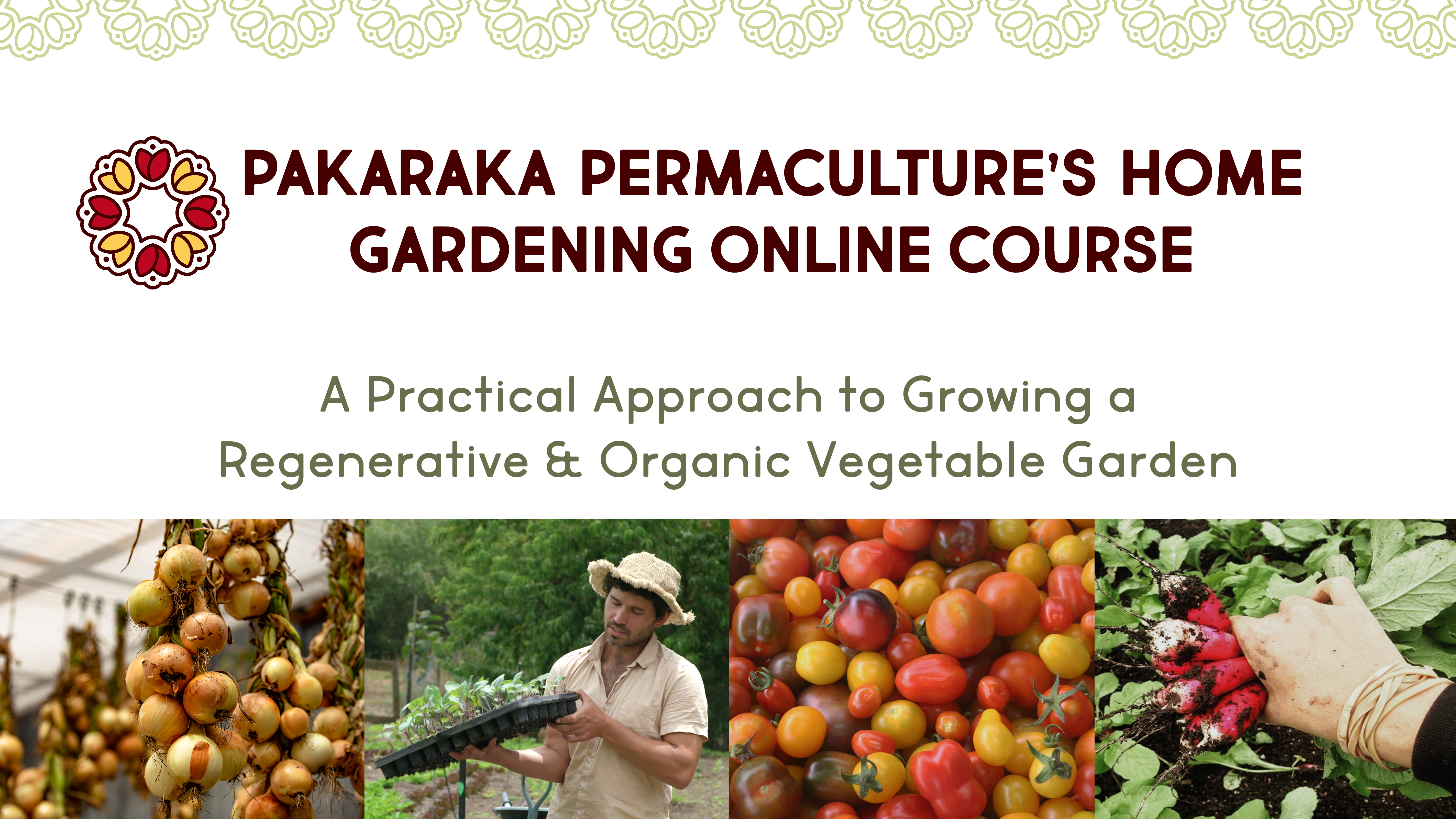 Join the coming 4-week course starting on the 6th of April 2024
Learn how to create and maintain a productive, regenerative organic home garden.
In this masterclass, Yotam will personally support you on your gardening journey as you grow a productive garden while improving your garden's topsoil health and biodiversity with every season.
Course Highlights
4 Weekly live online meetings with Yotam and peer students. Live sessions for this course are on Saturdays between 10 am to 11:45 am NZ time.
5+ hours of in-depth videos to walk you through each topic.
Downloadable tables and charts, readable on any electronic device.
Join a community of like-minded learners.
Share pictures of your garden or future garden design to get personalised feedback from Yotam.
Get all your gardening questions answered.
Learn everything you need to know to create and maintain an abundant, beautiful, organic-regenerative vegetable garden. Our gardening system is simple and is suitable for a wide range of site conditions, climates and circumstances. Learn the right strategies and techniques for your site and lifestyle, to grow vegetables of the highest nutritional value and quality, with less effort with every season.
In this online course, we will follow the chapters and content of our book, The Abundant Garden.
You can purchase a copy of the book with the course (free shipping) or borrow it from a friend or your local library for the course duration.
Each week, new video material will be released on the learning platform, which will cover two to three chapters, and will end with a live session with Yotam. In the live session, Yotam will answer questions and offer insights relevant to the weeks topics.

You Get Access To:

4 Weekly live online meetings with Yotam and peer students. In these weekly sessions, Yotam will personally answer students' questions and elaborate on topics of interest. If you can't make it or if you want to hear it again, you can view the recording of the session.
5+ hours of in-depth video content to walk you through the course materials.
Downloadable tables and charts, readable on any electronic device.
Join a community of like-minded learners, as we go together on an 4 weeks journey.
Get all your gardening questions answered.
Opportunity to get feedback on your garden design.
A Learn More section for further deepening of your understanding of the topic.
Join the community! On joining the course, you will be invited to join our private online community on Discord, where you can discuss your ideas with fellow students.
From the day the course begins, you will have 1-year access to the course platform.
100% satisfaction guaranteed! 7 days refund policy, no questions asked. Email us within 7 days, and we will fully refund your investment.
Upon completing the course, you can download a Certificate of Completion.

When purchasing the course, you will receive a discount code for ordering gardening equipment from ActiveVista.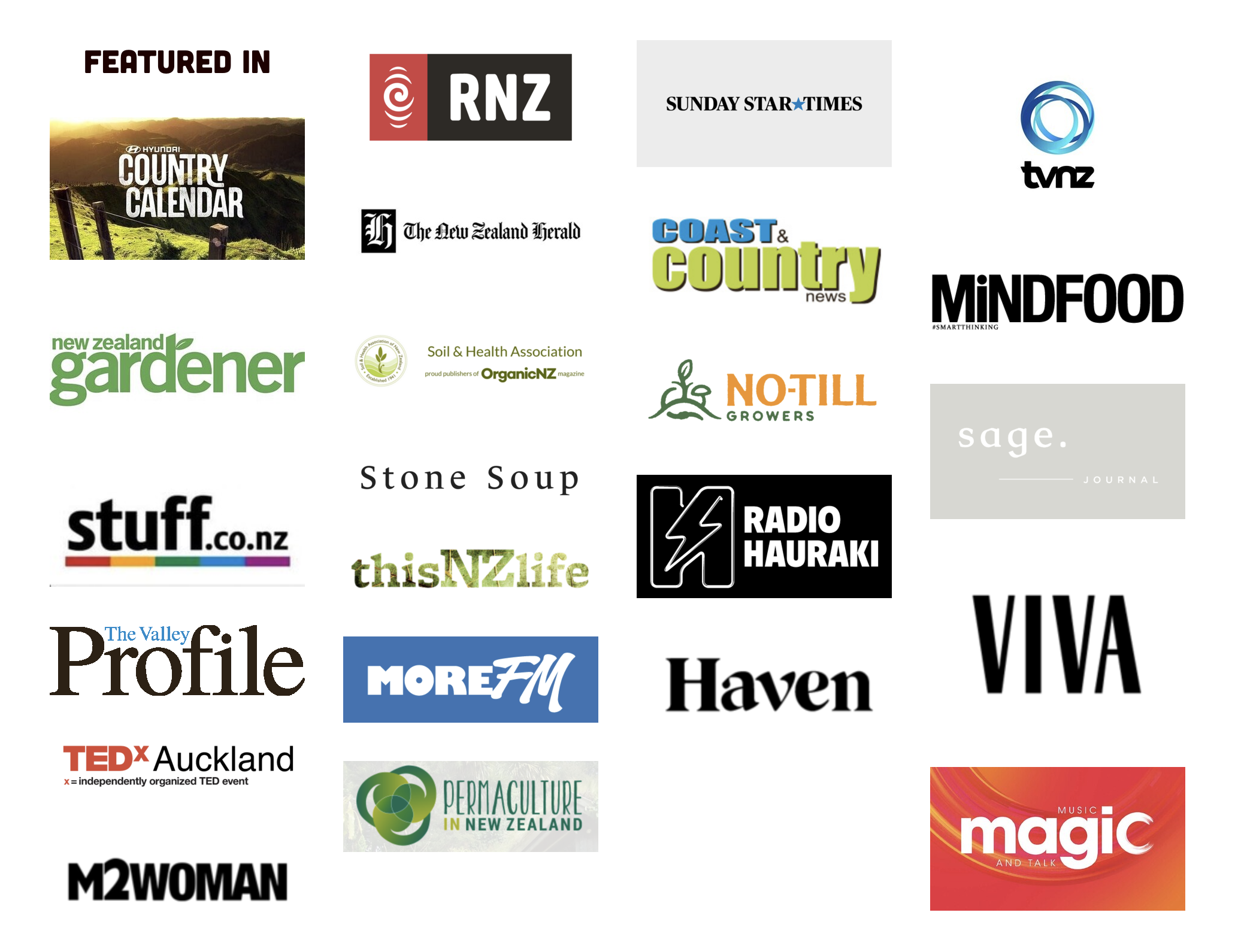 Course Learning Topics
Designing your vegetable garden
Cultivating healthy soils
Starting a new garden
Plant propagation techniques and planting in the garden
Productive planting
Weeding strategies
Irrigation and watering
Vegetables
Gardening through the seasons and crop planning
Plant health and managing pests and disease
All about compost
Growing microgreens
Saving seeds
Fermenting and preserving produce
Join the coming course, starting on the 6th of April 2024
Weekly Live Sessions with Yotam Kay will start on
Saturday the 6th of April 2024 at 10 am New Zealand Time (8 am Australia Melbourne/Sydney)

Weekly session dates:
6th April
13th April
20th April
27th April

"Yotam's passion for permaculture is palpable. It was a well thought through course jam packed with helpful tips that I have instantly incorporated into my gardening practice. 10/10 Highly recommended."

- Mike Mizrahi
"I did the home gardening course and loved every minute. Yotam is the source of so much knowledge, and every session was filled with information, ideas and tips. I found Yotam was always encouraging, no matter where we were at in our journey. To get the most out of the course, I needed to do the prereading and watch the videos, which is a commitment to the week, but well worth it. But the course was divided into manageable chunks, so I never felt overwhelmed with information. The course has given me all the info and motivation to get me going organic, and covered a very wide range of topics, Answering all our questions. Yotam has also been very generous in allowing us access to all the material for a year, and we have an ongoing platform to continue communicating with others in the course. I would highly recommend this course to anyone who wants to understand organic gardening but not sure where to start, or how to progress with it. Thank you so much Yotam."
- Sophia Harris
"My wife and I thoroughly enjoyed the permaculture course with Pakaraka Permaculture. Yotams enthusiasm is infectious and keeps things interesting. It was great to be able to see their farm operating through the seasons and at each stage of the growing cycle. We learned a lot even in the areas where we thought we were knowledgeable and now have new things to try. I would totally recommend the course and consider it great value for money."

- Hedley Wilton
Frequently Asked Questions
When does the course start and finish?
The course starts on the 6th of April 2024 and you will have access to the full content of the course until the 5th of April 2025.
Who is this course for?
This online course is suitable for beginner and intermediate home gardeners alike. The course will help you build solid foundations and fill gaps in your knowledge. The course is suitable for those wanting to grow in a small area in the city or a large suburban or rural section. While we will be starting from the basics so no previous knowledge of gardening is required, we will go deep with lots of technical details so even experienced gardeners will have much to gain. We have been teaching this content in our on-farm workshops and the feedback we received was that beginner gardeners find this course empowering and providing a great base to start from. Experienced gardeners found that this material helped them fill gaps in their knowledge, and helped them improve their gardening techniques with more efficient and productivity tricks.
Do I have to join the live weekly sessions?
Although we recommend you do, you don't have to join them. You can view the recording at any time that is convenient for you. You can submit any questions prior to the live session, and Yotam will answer them in the relevant session.
How much time should I expect this course to take?
While it highly depends on your level of engagement with the material, we recommend dedicating 4 to 6 weekly hours to get the most out of the course. This time includes the live weekly session, reading the material in The Abundant Garden, watching course videos and participating with the learning community. If you are short of time during the course, you can complete reviewing the material at a later date.
How can I ask questions that I have?
You can ask questions and receive answers in several ways. The best way is to come to the weekly live session. Alternatively, you can submit your question before the class, and Yotam will answer it there. You can also submit your question in writing on the learning platform in the relevant lesson. You can also ask questions in the groups' private Discord group and receive answers from fellow and past students.
Is this course suitable if I am not in NZ?
Yes. The vast majority of the content in this course is suitable for gardeners from both hemispheres, not just New Zealand and Australia, as the art of productive gardening is universal. The main strategies and techniques illustrated in this course are applicable in many parts of the world, but the examples and suppliers provided are specific to New Zealand. In The Abundant Garden book, all of the figures appear in the Metric System and the Imperial System. The figures in the appendixes and tables are currently only in the Metric System.
I don't have a vegetable garden yet, will I still benefit from the course?
If you don't have a garden at the time of the course, the course will provide you with solid foundations to establish and maintain a home garden in the future.
What size garden do I need to take part in this course?
Having access to a garden plot of any size (a planter box is totally fine) will help you practise the techniques we share in the course. We recommend that your garden is easily accessible to you and that it gets full-sun exposure (8 hours of direct sunlight).
Can I enrol and take the course with a friend?
The course enrolment is for one person to join the program. You are welcome to invite your partner or/and child (or someone living with you) to join the online live sessions with you on the same device. If a friend wants to join the course they will need to enrol separately.
How is this course compared to a horticultural course?
This is not your average horticultural course, and the focus is not on theoretical aspects of plant biology. Instead, this course is focused on proven strategies, practical skills and task-specific information. The course is specifically catering for home gardeners, based on our extensive gardening experience.
What is your refund policy?
If you are unsatisfied with your investment, contact us in the first 7 days, and we will give you a full refund.
I have a question, how do I contact you?
Your Instructor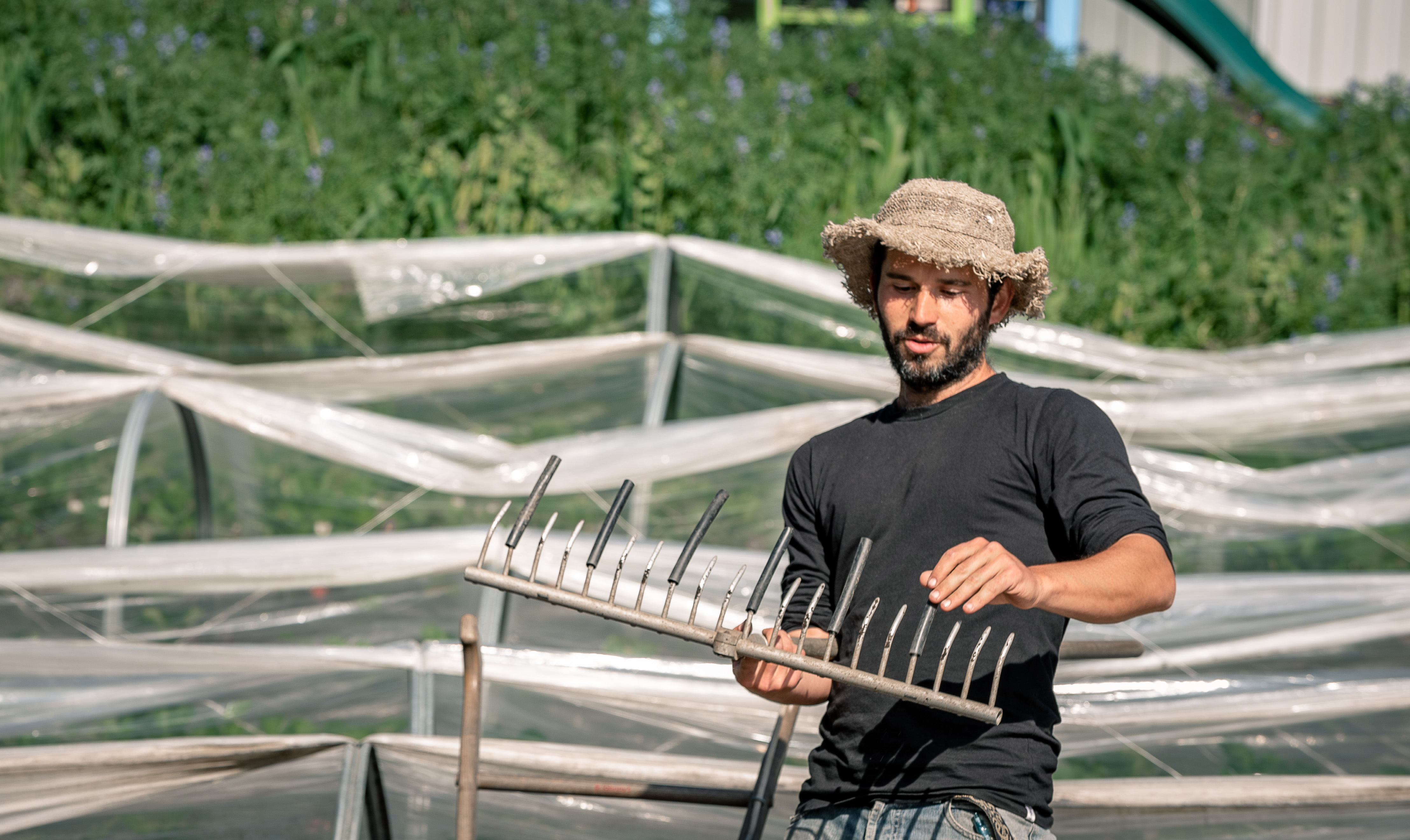 Yotam Kay is a master gardener and experienced fermenter who loves sharing his passion. He has been growing vegetables and teaching others how to do it since 2005. Yotam dedicated his career to learning about growing vegetables organically in a regenerative way, with the burning question, "how much food can be grown in a small piece of land efficiently and regeneratively?". Niva and Yotam established Pākaraka Permaculture Market Garden and Educational Centre for Regenerative Living" in Thames, Aotearoa New Zealand, in 2014.
Yotam studied Environmental science, holds a Diploma in Permaculture Design and is a certified Permaculture teacher. Yotam worked on a wide range of projects before establishing Pakaraka Permaculture; leading community garden projects, establishing food gardens and sustainability programs in schools, and managing commercial organic gardens in New Zealand.
Yotam is passionate about transitioning to sustainable food production, focusing both on backyards and commercial growers. Yotam has taught thousands of people through on-farm workshops and online courses.
Yotam and his partner Niva co-authored the #1 Bestseller book The Abundant Garden (2021) and The Abundant Kitchen (2023). Niva and Yotam were awarded the peer-reviewed 'Farmer of the Year' at the 2021 Organic NZ Awards, and Yotam is a regular contributor to NZ Gardener Magazine.